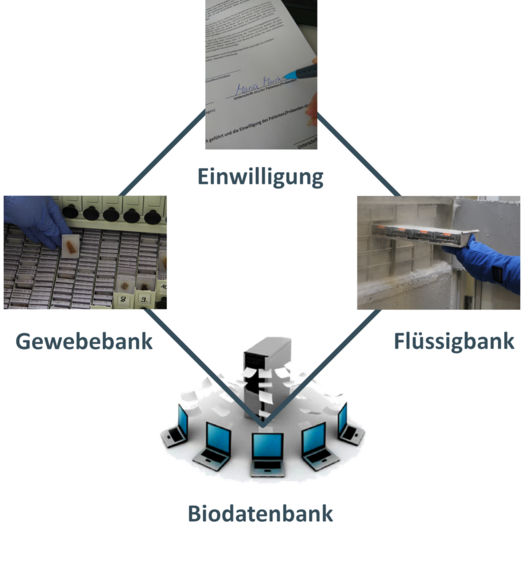 Biobanks work at the interface between patient care and biomedical research. They collect patients' sample material that is no longer needed after diagnosis and is otherwise discarded. The biobank processes these residual materials such as body fluids or tissue and stores the biosamples under high quality standards until they are used in research projects. To ensure that the biomaterials can be precisely selected for studies and other research projects, clinical data such as age, gender, diagnosis and therapeutic procedures are also collected and documented for each patient and passed on to research in encrypted form.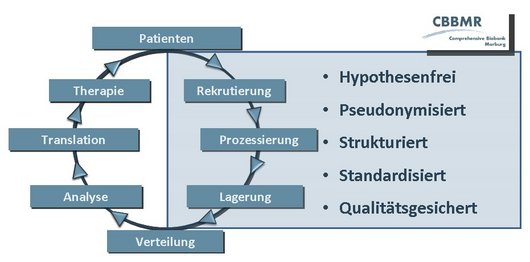 The Comprehensive Biomaterial Bank Marburg, CBBMR, is a scientific service platform (Core Facility) of the Faculty of Medicine of the Philipps-University of Marburg and aims to establish a central collection of biosamples in a modular way. The collection includes tissue and liquid samples from patients of the University Hospital Marburg for research purposes and makes them available for research projects at the Marburg site and in cooperating institutions.
The Marburg Biobank CBBMR is highly committed to the protection of the personal rights of patients who donate biosamples to the biobank for research purposes. Biomaterials and the associated data, which together are needed for innovative medical research, are only transferred to the biobank in pseudonymized form. The data identifying the patient are pseudonymized in the biobank. This means that samples and the associated data of a donor are not listed in the biobank under the donor's name, but exclusively under a number and letter code. Samples and data are only passed on to scientists under this pseudonym.